On October 26 and 27, 2023, ROOT & SHOOT exhibited at the SACNAS National Diversity in STEM (NDiSTEM) Conference in Portland, Oregon.
ROOT & SHOOT Booth
Helping us staff the booth were two student volunteers: Roshni Panwala, a PhD student from the University of Florida, and Janet Mansaray, a PhD candidate from Louisiana State University. They spoke to conference attendees about the RCN and shared their enthusiasm for plant science. We were also joined by Maureen Onyeziri, PhD, who was representing our partner organization Corteva Agriscience. She spent time at the booth talking to students about Corteva's DELTA Symposium.
We shared resources from across all participating societies, and talked to a lot of folks about the 2024 Travel Awards, which close November 10.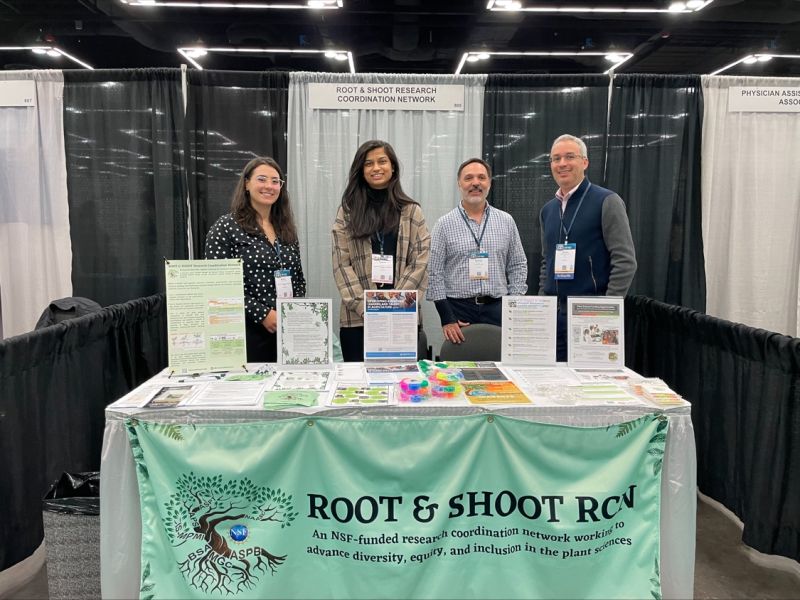 [Pictured, left to right: Marcia Puig-Lluch, Roshni Panwala, Gustavo MacIntosh, and Miguel Vega-Sanchez.]
Professional Development Session: Navigating Your Way to Careers in Plant Biotechnology Companies
The goal of this session was to inform and nurture trainees toward future employment and/or internships in companies in the biotech sector by providing them with specific, actionable information (examples of required skills, CV and resume evaluation, and resume preparation), along with networking contacts, which will help them navigate their pathways toward corporate careers.
We held a series of roundtable discussions, where attendees could chat with our speakers about topics such as leadership skills, CVs 101, internship opportunities, and preparing for behavioral-based interviews.
The panelists represented biotech companies ranging from start-ups to large corporations:
Maureen Onyeziri, PhD (Corteva Agriscience)
Miguel Vega-Sanchez, PhD (Bayer)
Saarah Kuzay, PhD (Fyto, Inc.)
Karina Morales, PhD (University of Wisconsin-Madison)
Loren Rivera Vega, PhD (Pairwise)
This session was facilitated by Gustavo MacIntosh, PhD (Iowa State University and past ASPB president) and Marcia Puig-Lluch, MPA (ROOT & SHOOT Program Facilitator).
The presentation and resources slides can be found here.
The session had 23 participants, 14 of whom completed a session evaluation. Overall folks were happy with the session and found it to be useful, they just wish they had more time to speak to the panelists.