NDiSTEM is the National Diversity in STEM Conference, organized the SACNAS (Society for Advancement of Chicanos/Hispanics & Native Americans in Science). This year the conference was held from October 27 – 29, 2022 in San Juan, Puerto Rico.

To raise awareness of opportunities in plant sciences, and connect with the SACNAS community, the ROOT & SHOOT RCN sponsored a booth in the exhibit hall. Attending the booth were Imeña Valdes, Marcia Puig-Lluch, and Adriana Hernández.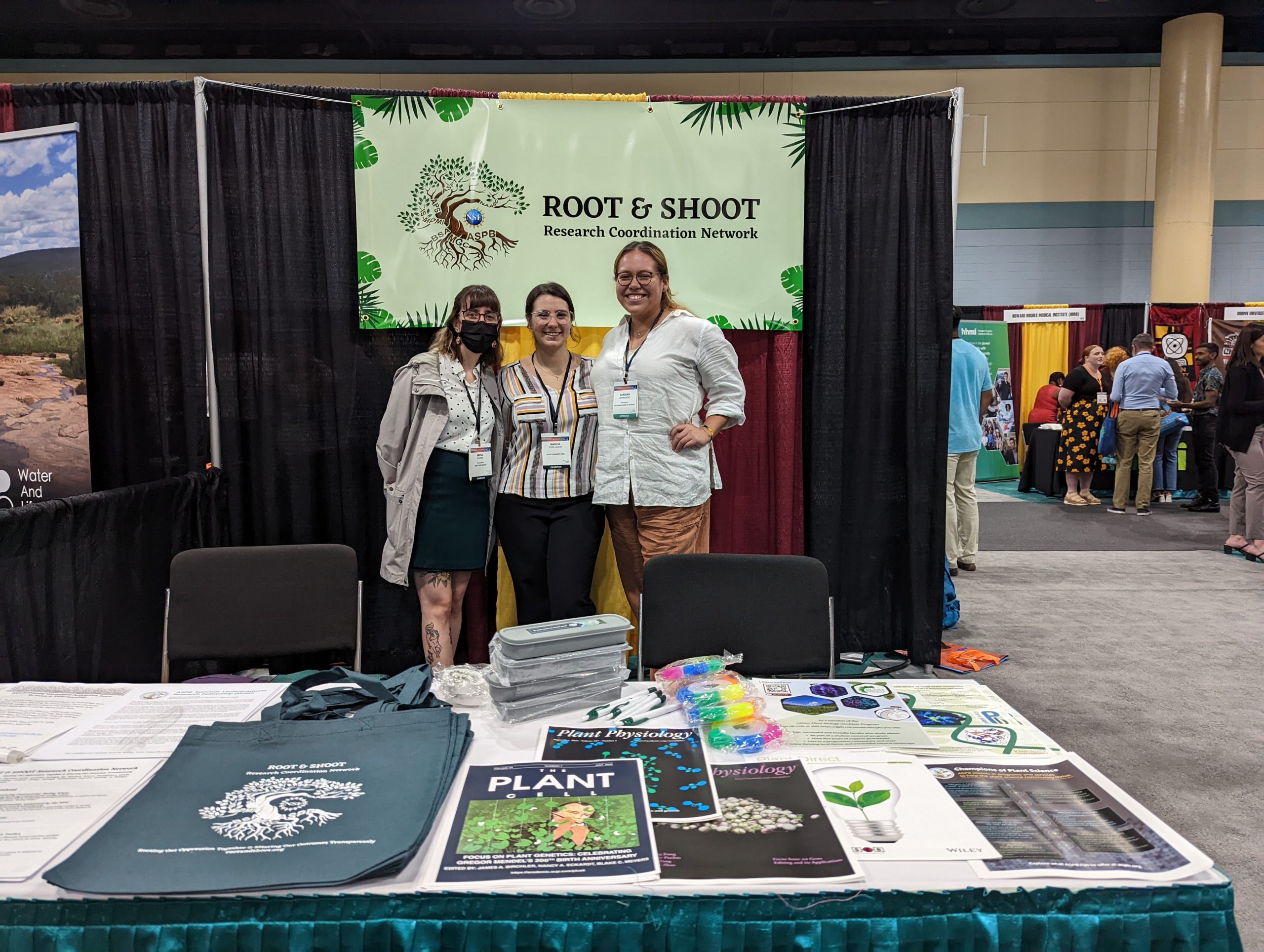 ________________________________________________________________________________________________
ROOT & SHOOT at NDiSTEM
By Marcia Puig-Lluch
From Wed., October 26 – Fri., October 28, ROOT & SHOOT exhibited at the National Diversity in STEM (NDiSTEM) Conference in San Juan, Puerto Rico.
The conference had about six thousand attendees, primarily undergraduate and graduate students. At the ROOT & SHOOT booth, we had handouts explaining the background and timeline of the RCN, opportunities to get involved, as well as organization-specific resources. We also had giveaways such as branded tote bags, highlighters, and pens.
Since the RCN is relatively new and quite niche, we were often confused with ROOTs and Shoots, a program funded by the Jane Goodall Institute. Roots and Shoots is a youth-powered program where people from all over the world participate in projects that help people, animals, and the environment. Many attendees who stopped by our booth were environmental studies majors or folks who were plant-science adjacent, and Imeña and Adriana were able to go into more detail about careers in plant science and how the RCN-participating organizations could be a good resource for them. We spoke a lot about how upcoming Working Groups could be a good way to get involved with the RCN.
The conference environment was welcoming, energizing, and engaging, with celebrations of Puerto Rican and indigenous cultures. Attendees were actively engaged in DEI and were given the opportunity to provide feedback throughout the conference.
Equity: What institutional change is most important to #AccelerateDiversity in STEM?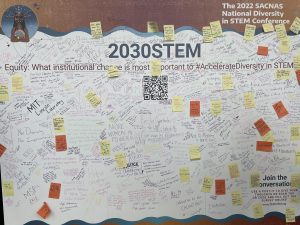 Picture ID: A large poster board with "2030 STEM" and "Equity: What institutional change is most important to #AccelerateDiversity in STEM" printed in large font. The poster is covered in sticky notes and dozens of handwritten responses.
Responses include:
"More opportunities for international students"
"Communicate and implement DEI and social justice curriculum and research practices and have those changes supported from the Dean through Department chairs and down"
"More education about indigenous knowledge of research by people of diverse backgrounds"
"PAY your graduate workers!!"
"Lower application fees & remove other barriers that discourage low-income applicants"
"STOP charging large conference fees & fix reimbursement process"
"Let me put my traditional & legal name on my degree!"
"Prioritize education for marginalized communities, listen to their narratives, don't overpolice them!"
"White men need to use their positions of power to dismantle oppressive systems"
"More comprehensive outreach and marketing for events like this"
"Pre-college STEM opportunities that individualize careers for diverse youth"
"NO MORE STUDENT DEBT"
"Join your local student union"
The biggest lesson learned at the booth was that we should have had more materials geared towards students. Folks stopped by with either a vague or solid interest in plant science, but we had no consolidated sheet with information on things like student memberships, travel awards, and other programs. We also had professors, program directors, and PIs stop by the booth asking for handouts for their students. We directed people to the QR code on the handout that linked to our mailing list, but it would have been nice to have more things available.